Come and savor our 3 restaurants and 1 Café!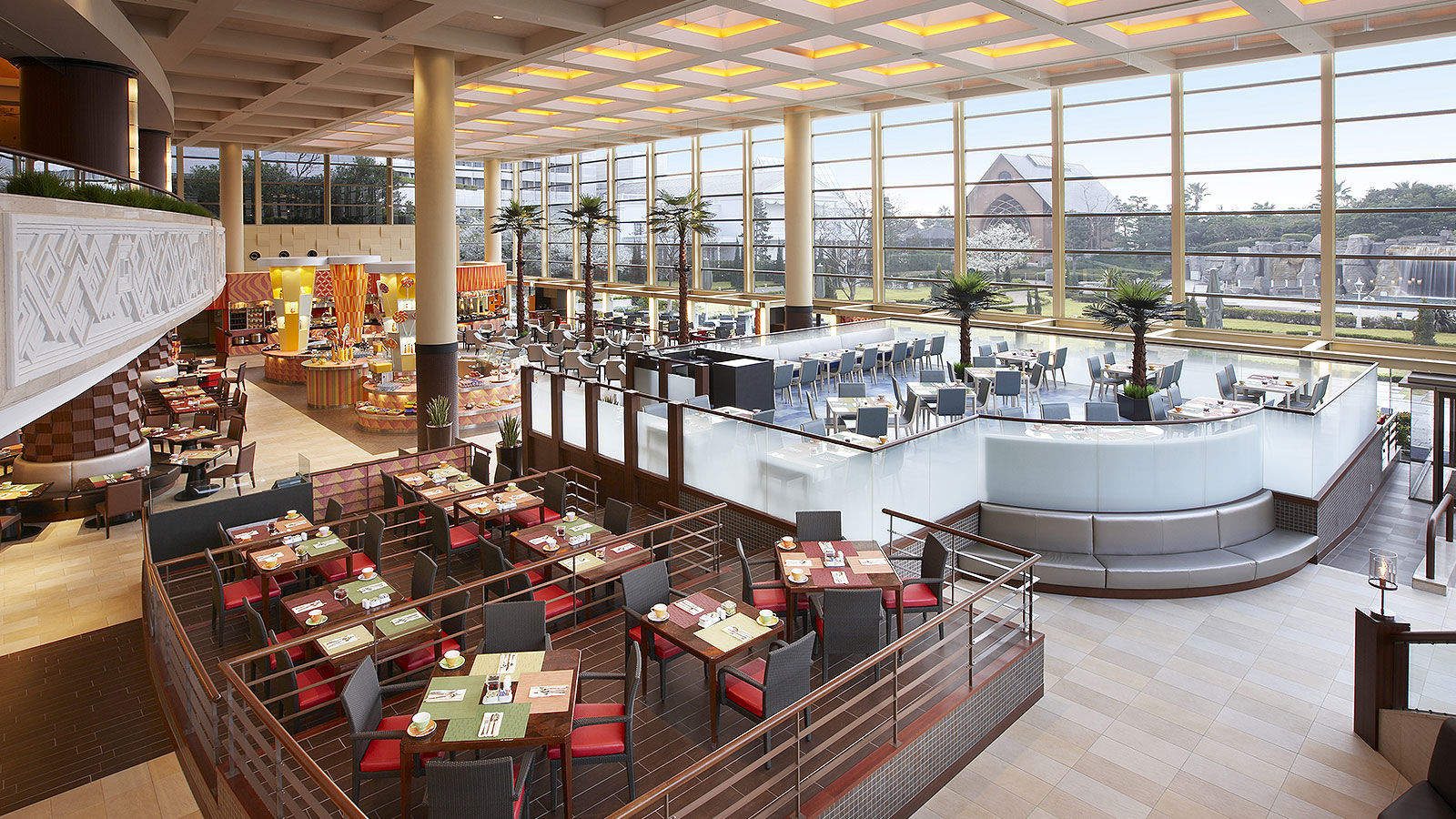 Cuisine:International
Dress Code:Casual
Setting:Garden View, Show Kitchen
Hours: Breakfast 6:30 AM - 10:00 AM
Lunch 11:30 AM - 2:30 PM(-3:00 PM on Sat./Sun./holidays)
Dinner 5:00 PM - 10:00 PM (-9:00 PM on Sat./Sun./holidays)

Reserve now
Step into Grand Café and enjoy the welcoming greetings from Grand Café Staff and all the colorful decorations with lollipops and brightly colored-Candies, and of course our buffet foods!
Don't forget to taste our Roast beef savored with homemade herbs!
Furthermore, enjoy our activities and build up your own arranged dishes!
Come and discover this Grand Café; a venue to enjoy with Freshly cooked cuisine, Fun and deliciousness!!
Maihama Teppanyaki+

Cuisine:Teppanyaki, Steak and Seafood
Atmosphere:Stylish Contemporary
Setting:Garden View, Open Kitchen with Grill Tables
Dress Code:Casual Sophistication
Smoking Permitted:No
hours: 5:30 PM - 11:00 PM (last food orders taken at 10:00 PM)
Overlooking our garden, Teppanyaki Restaurant Maihama lets you enjoy a well-loved Japanese cuisine tradition in which fine meats and seafoods are grilled out in the open in a chic yet relaxed setting. Sit at a comfortable table next to the large picture windows with garden views, or soak up the appetizing smells, sights, and sounds of our expert chefs at work at a bar facing our open kitchen and grill tables.
Asuka

Cuisine: Japanese
Atmosphere: Elegant & Comfortable
Setting: Garden View, Sushi Bar
Dress Code: Smart Casual
Smoking Permitted:No
Hours: Breakfast 7:00 AM - 10:00 AM
Lunch 11:30 AM - 2:00 PM (last food orders taken at 1:30 PM)
Dinner 5:30 PM - 9:30 PM (last food orders taken at 9:00 PM / on Dec. 30-Jan. 3, last food orders taken at 8:00 PM)
*Sushi Subaru is closed for January 4, 11, 18, and 25, 2017.
At Asuka, an authentic Japanese restaurant, a refined contemporary interior in black and silver creates a soothing atmosphere for sampling modern interpretations of traditional Japanese cuisine.
Café Toastina CLASSIC CUPPAS

Cuisine: Coffee, tea and sweets
Atmosphere: Energetic & Casual
Setting: Self-service café
Dress Code: Casual
Smoking Permitted: No
Hours: 7:30 AM - 11:00 PM
Toastina, with an orange and black palette plus uplifting accents that echo the style of a cruise liner deck, is a chic and modern café with an energetic atmosphere perfect for chatting over coffee or grabbing a snack to take away. With tables and chairs and a long leather bench, Toastina offers plenty of comfortable seating for enjoying tea time as you look out over our light-filled lobby and garden.